Data management: Searching
To locate a file, click Add --> Filter/Search in the Managing, Instruments, Reporting area. As a result, the area changes into a search form (an example is shown below):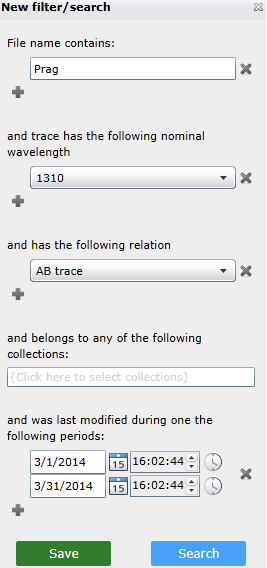 In this form you can define practically any file parameter necessary for fast and efficient search. 


Please note that if a field is red-bordered, the Search button is not clickable. To perform the search, you have to either fill in the red-bordered field or remove it.

You can save the search parameter set as a filter to be re-used, by clicking Save. Then a new filter appears in the My filters list. If you hover your mouse over the filter name and click the small triangle, you can edit, or rename, or remove the filter.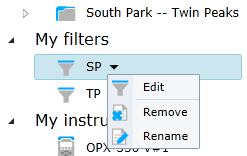 In many cases you can quickly and easily go to the necessary file by going to the related file and clicking the arrow next to its name (see below)